If you couldn't guess by the title, this is a zombie survival Gide written by, yours truly, iluvgale. Now. Why on earth would you need a zombie survival guide? Odds are you won't but it's better to be safe than sorry. RIGHT??? So... I'll be writing about the basics: all about zombies, how you turn into one, how to kill them, how to protect yourself etc. If there is a certain topic that you want me to cover just tell me!!! And if you disagree with anything also tell me!!! OH... AND I'M THE ONLY ONE ALLOWED TO EDIT THIS. THIS IS MY ZOMBIE SURVIVAL GUIDE.
THE ZOMBIE'S APPERANCE:
Edit
There is one thing that I want ALL of you to know about zombies:
THEY DO NOT HAVE GREEN SKIN!!!!!!!!!!!
Yes... in games such as zombie farm and zombie life (yes I play both) they do. Well... in real life (no pun intended) they DO NOT have green skin unless the person before they died dyed themself green. Why would someone do that? I don't know!!!!
REAL ZOMBIE:

--------------------------------------------------------------------------------------------------->

<------------------------NOT REAL ZOMBIE:
Now... the real information:
Zombies, or walkers as they are called in the Comic Book and TV series "The Walking Dead", are usually very well.... creepy looking in MY opinion. Their eyes will be lifeless looking and usually their skin looks pale since they are DEAD.
They will be in some state of decay due to the fact that even though they are walking around (hence the name "walker") they are still dead and their body is still decaying. They may have one or many bites or maybe missing part/most of their body like the picture --->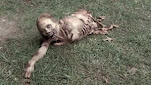 HOW TO ESCAPE ZOMBIES...
Edit
KEAP has asked the question of "How can you escape zombies???"
It's actually a good question.
The only way to kill a zombie is to destroy their brain (a topic that I'll get more into). Now... you CAN always escape zombies. It's just a matter of whether you're prepared enough to. If it's just you with dozens of zombies you don't have that good of a chance. But if you're not surrounded completely, hopefully have a gun (and are a fairly good shot), and have somewhere that you can hide and where they can't get it.
Zombies are distracted by loud noises (such as gun shots) and bright light. So if you want to distract zombies you can set off a car alarm or if it's at night set off lights.
So... YES, it IS possible to escape zombies under the right circumstances.
HOW DO YOU BECOME A ZOMBIE???Edit
Well... there are actually several ways to become a zombie.
1. Get bit.
Edit
If a zombie bites you, you will turn into a zombie. After a few hours usually, you get a severe fever. And after a certain amout of time (it depends) the fever kills you.
2. Just die
Edit
No matter how you die (as long as it's not due to brain damage) you WILL come back as a zombie.
TURNING INTO A ZOMBIE
Edit
3 minutes to 8 hours after you die you will come back as a zombie. Only part of your brain will begin working again. This is not the part of the brain that makes you you. It enables you to be able to walk and do all those things but not to speak or actually know anything. You won't remember ANYTHING of your real life.
LONG STORY SHORT:
You die ===> turn into zombie.
HOW TO KILL A ZOMBIE...
Edit
A zombie's only weakness is their brain.
Community content is available under
CC-BY-SA
unless otherwise noted.